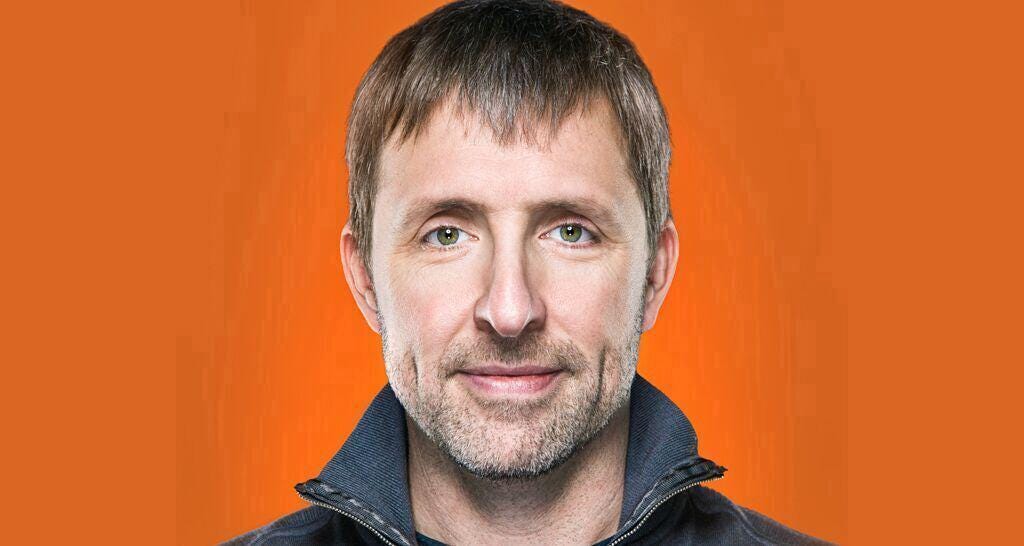 Philosopher Ralph Waldo Emerson once said, "If you build a better mousetrap the world will beat a path to your door." That's exactly what Dave Asprey, a self-made master of biohacking and the founder and CEO of Bulletproof 360, Inc. did.
Bulletproof 360 Inc. Founder + CEO, Dave Asprey
The term biohacking is broad in its definition (and practice) but for the sake of this article we will define it as a DIY version of achieving optimal functionality of your body and mind by using science, biology, and self-experimentation so that you live your most productive and happy life. While the term was first used in 1988 in a Washington Post article discussing how biotechnology will be used to "fiddle with the genetic code of a living organism", more recently Asprey has become a pioneer on the subject by sharing the "hacks" that he discovered after two decades of working with renowned doctors and scientists that have helped him enhance his own cognitive and physical performance.
Asprey tells me, "I made $6 million at 26. I did really well early in my career. Then I lost the money at 28. I weighed 300 pounds. I was profoundly fatigued. I was on a low calorie diet and a heavy exercise regimen of 90-minutes a day 6 days a week that failed to deliver any results. All of my diagnostics were fine, but I wasn't fine. At the time I was running engineering programs to teach people how to build the internet. I thought I could find another way. I decided to take the data-centric approach I used at work and turn it on myself. I experimented with a variety of different variables to tweak my own biology and take things into my own hands."
Bulletproof Coffee
Bulletproof Cafe Latte Bar
Bulletproof Cold Brew Coffee
In 2012, Asprey launched the Executive Blog and the same year he launched his first product, Bulletproof Coffee, which has found a worldwide cult following. Fast-forward to today and Asprey has created a multi-million dollar empire that includes cutting-edge content, beverages, food products, in addition to writing two New York Times bestselling science books and hosting the Webby award-winning podcast Bulletproof Radio that has been downloaded over 50 million times. In 2015, the company opened its first flagship café in Santa Monica, California and in 2017 opened Bulletproof Labs, the first of its kind human upgrade center nearby. This July, the company completed a Series-C funding round led by CAVU Venture Partners after raising over $40 million in equity and debt financing and doesn't appear to be slowing down anytime soon.
When I ask Asprey if it was always his plan to have so many verticals he says, "I created Bulletproof to improve human performance. This is an audacious goal. To achieve such a goal, it was always going to be necessary to leverage multiple verticals, including content and education and omni-channel distribution. Some of the newer verticals, like Bulletproof Labs and Cafes, have long been part of the plan but could only become realistic as we've grown our footprint and raised the funds to scale our impact."
Wanting to know more about the Bulletproof Labs Asprey tells me, "Bulletproof Labs are the first of its kind facilities using state-of-the-art biohacking equipment that will supercharge your body and upgrade your brain. These labs feature different technologies that will improve mental and physical performance and recovery. Examples include cryotherapy, virtual float tanks, neurofeedback and cold high-intensity interval training. Using these tools allowed me to completely change my life. I've maintained a 100-pound weight loss, improved my sleep, upgraded my brain and ultimately transformed into a better version of myself, and it has saved thousands of hours of my time. The Bulletproof Labs means others can experience the same powerful transformation I have, without the unreasonable cost of spending $1 million to build it at home. Bulletproof Lab visitors can also have the opportunity to consult with staff at the on-site independent medical clinic and receive performance enhancing targeted IV nutrient infusions."
Bulletproof Lab in Santa Monica, CA
Bulletproof Lab Upgraded Cryotherapy
I asked Asprey if he experienced any flack or resistance for stepping into the health and wellness sector without coming from a medical background. Asprey responds, "I had to deal with some hate. I used to put a lot of energy into dealing with the "science trolls". I can handle criticism but I won't tolerate personal attacks. Blocking and deleting is a wonderful tool. I have also gotten recognition. I recently keynoted at the American Academy of Anti-Aging Medicine Institute for over three thousand doctors. I stood up and told them that I am a bio-hacker and no one can take my license—they all clapped. One of the things that helped with this is that my book Head Strong was a bestseller. Top doctors have endorsed the book, which is well referenced and respected by others in the industry."
Whether you subscribe to the Bulletproof lifestyle or not—what is undeniable is that Asprey has created a brand that clearly resonates with consumers and investors alike.
Bulletproof
I ask Asprey if he has any advice or wisdom he would like to share for future entrepreneurs and empire creators? Asprey shares, "For people who aspire to be entrepreneurs, there's nothing better than being your own boss, surrounding yourself with the right kind of people, and collaboratively building your dream into your empire. In terms of wisdom, I've only been able to achieve what I have because earlier in my career I made a point of learning everything about everything from a business perspective. I didn't just stick to engineering or product. I made it my point to learn about every aspect of the businesses in which I worked—every function, every core business metric, and every lever that propelled the business forward. It's crucial to understand all elements of a business before creating one."
Asprey's newest book, Game Changers comes out this coming December 4th (available for pre-sale here) and answers the question of "How can I kick more a** in life"? Asprey taps into the wisdom of entrepreneurs, scientists, and game changers like Dr. Daniel Amen, Gabby Bernstein, Dr. David Perlmutter, Arianna Huffington, Esther Perel, and Tim Ferris as well as examples from his own life to provide practical advice and techniques for becoming happier, healthier, and smarter.
Dave Asprey
With the grass often appearing to be greener on the other side, I ask Asprey if the empire that he has created is all that it is cracked up to be. Asprey tells me, "I get to live in a beautiful place surrounded by nature. I get to be the fully present dad and husband I'd always hoped to be. And I'm improving human performance while building the next billion-dollar CPG empire. This is what I was born to do. I've never felt more fulfilled, I've never felt or looked better, and I've never been happier."
Now that he has figured out the recipe for his optimal health I wanted to know if Asprey was working on any other new hacks. Asprey tells me, "My big self challenge right now is that I am working on living to 180. I say this not in jest but in all seriousness. This requires another level of awareness and it is building in time".