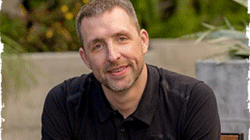 S ilicon Valley investor and entrepreneur Dave Asprey, in an effort to rev up his cognitive functioning, has over the last 15 years spent $300,000 to "hack his own biology," using a range of different so-called "smart drugs."
Asprey, founder and CEO of The Bulletproof Executive and a self-described "biohacker," was featured on CNN Sunday describing his morning cocktail of 15 pills, and brain exercise techniques through which he says he has raised his IQ by 20 points. Included on the cocktail list is a product called Unfair Advantage which he says makes his body metabolize food more efficiently, and which is among a number of supplements he markets and sells in many cases to customers who are in Silicon Valley.
Subscribe to Upstart Today for a daily jolt of startup news and powerful ideas.
Also on his own daily list are Piracetam, Aniracetam, CILTEP, Methyl, and Cobalamin.
Many are so-called "nootropics" which are natural supplements or nutrients that are supposed to improve functioning.
While the drugs are mostly legal, some nootropics devotees get their hands (illegally) on prescription drugs such as Modafinil, a narcolepsy drug that helps people without the disorder pull all-nighters at work, the report said.
Asprey washes his own cocktail down with his butter-rich Bulletproof coffee, inspired by yak-butter tea he tried in Tibet and popular among celebrities. It's all part of "The Bulletproof Diet," which is also the title of a book Asprey wrote that was released on Dec. 6. His diet, because of its emphasis on fats and butters, is controversial, but his health podcast has been downloaded more than 6 million times.
"When I weighed 300 pounds, I was having really bad problems with brain fog," he told CNN. "As an entrepreneur, that's a problem. I fixed that."
He won't reveal sales, but told Fast Company recently that the revenue at the company, whose first product in 2011 was the coffee beans, grew 700 percent in 2014 over the previous year. In the first quarter of 2015, Asprey is opening a standalone Bulletproof coffee shop in Los Angeles, the city with the most visitors to his website. He would have opened it in San Francisco, but high rents made the area too competitive to get space in, he says.
© 2023 American City Business Journals. All rights reserved. Use of and/or registration on any portion of this site constitutes acceptance of our User Agreement (updated January 1, 2021) and Privacy Policy and Cookie Statement (updated July 1, 2022). The material on this site may not be reproduced, distributed, transmitted, cached or otherwise used, except with the prior written permission of American City Business Journals.